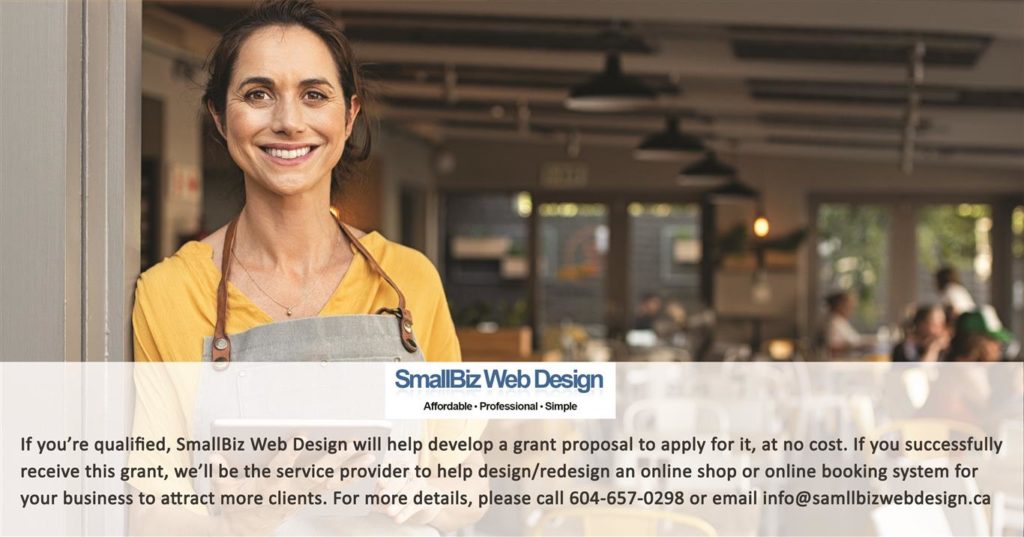 On March 17, 2021, the BC Launch Online $7,500 grant program was expanded to include service-based businesses (salons, consultants, physiotherapists, contractors, etc.). The gov't has invested an additional $30 million to help BC-businesses move their business online. The deadline to apply for this grant has also been expended to September 31, 2021.
The Launch Online Grant program provides funding to B.C.-based business to create an online shop or an online booking system and/or improve their existing online operations to attract new local customers and expand to new markets. The grant will pay for up to 75% of eligible expenses, up to a maximum of $7,500 per business.
We will encourage BC-registered small business owners whose gross revenue was over $30,000 in the past year (in 2019, or in the year preceding the application) to check the updated eligibility criteria to see if your business qualifies.
If your business is qualified for this Lunch Online Grant, SmallBiz Web Design will help you develop a grant proposal to apply for this grant, at no cost. If you successfully receive this grant, we will be the service provider to help design or redesign an online shop or online booking system for your business to attract more clients.

Eligible Expenses
Funding will help cover up to 75% of costs for expenses like:
Service provider costs:

Platform, online shop and online booking system development
Copy and online content writing
Developing an online inventory of goods, products and services
Pictures (including hiring a photographer), stock photos or related graphics needed

Digital Customer Acquisition:

E-commerce platform subscription (up to 1 year)
Online advertising (up to 1 year)
Search Engine Optimization (SEO)
Creating banners and other embedded advertising

Course fees to cover staff training to manage the online shop or an online booking system, learn about digital marketing, etc.
If you are interested, feel free to contact us at 604-657-0298 or email us at info@smallbizwebdesign.ca for more info.
Related Posts via Categories