So you are a small business with products and you want to sell your products on your website. Do you know if people feel comfortable buying your products on your website?
According to a survey from 1&1 Internet, conducted by MaCorr Research,  overall, consumers in general feel comfortable using small "e-tailers", small business e-Commerce websites with an e-shopping cart.  Among those consumers who had made purchases online, 96% say they had a positive experience with a small online retailer.
However, Online Security Remains Top Concern for Small Retailers
Though 7 out of 10 consumers are confident that they receive the same standard of service online as they do from similarly sized 'over-the-counter' retailers, their biggest concern regarding online retail purchases from smaller operations remains the security of the internet transaction.
Nearly half (49%) of online shoppers are concerned about security, with another 34% concerned on the speed of delivery.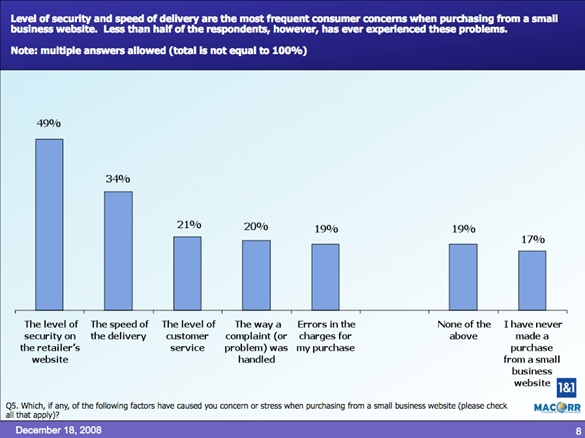 So what are you going to do with your e-Commerce website knowing people concerns about online security? The answer is obvious – make your e-Commerce website secure enough. The best solution for small businesses who are looking to sell their products online is to use PayPal business account. PayPal is the simple, fast and secure way to accept payment online for small businesses.
Over a million websites have set up online payments successfully with PayPal.
Your buyers do not need a PayPal account
No setup charges or monthly fees* (PayPal Payments Standard)
Easy to add to your website
If you use PayPal online your website, the online payment transaction will be done on PayPal's website, not on your website, which means that you don't need to worry about the security issues of your online payment, PayPal takes care of that for you. All you need to worry about is to make sure your e-Commerce website is simple and user-friendly, providing a positive online experience for your clients.
With our e-Commerce web design,  you don't need to worry about the security concerns that your customers might have. Make sure to put your PayPal payment method on the homepage so that your clients aware of that and hence reduce their potential concern.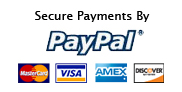 We provide everything you need to run an effective online store.
Related Posts via Categories