Design Packages
Websites are the best, most cost-effective and efficient marketing tool for small businesses.
No matter how small your business is, you must have a website to promote your products or services on the web. If you don't have a website, you are losing business to your competitors who do.
SmallBiz Web Design understands the needs and challenges of small businesses.
Most small businesses do not have a big budget for an expensive web project. We are here to resolve this issue.
For May Only, we will design a professional website for you for free. You only need to pay the web hosting fee which starts as low as only

$25/month

.
Hurry up! It's a limited time promotion!
* With this special promotion, a small one-time setup fee ($150 ~ $300) applies.
We offer 8 web design and hosting packages to meet your business needs.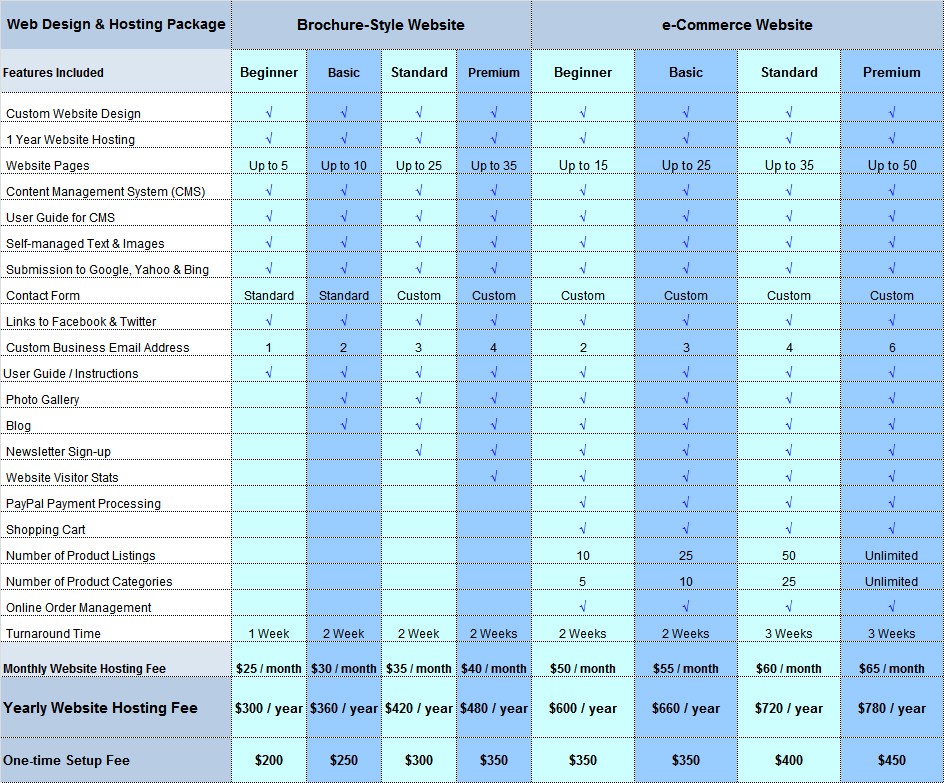 Besides custom web design and website hosting, we also provide the following services at an additional cost. Our services can be tailored to meet your specific needs.
Available add-on and extras

Search Engine Optimization (SEO)

We optimize your website to improver your visibility in search engines, such as Google, Yohoo! and Bing. We will also provide a few SEO tips and tricks that you can apply on your own.

Meta title tag, Meta description tag
Custom page titles/URLs
Key word research and analysis
Submission to top search engines – Google, Yahoo & Bing
Google Analytic Integration

Social Media Integration

We will integrate your social media profile (Facebook, Twitter, LinkedIn, Pinterest) with your website, so that you can drive traffic among them.
Facebook Business Page Set-up and Design

It's absolutely necessary to get a presence on Facebook if you are running a small business. Your Facebook business page is a complement of your business website. Let us help you setup a Facebook page with all the information you need to promote your business on Facebook.

Internet Marketing Consulting

Are you struggling with your online marketing strategy? We can analyzing your target and clients and provide recommendations on how to develop & implement your online marketing plan.  We will take care of your online presence and marketing so that you can focus on your business.

Google AdWords Advertising Campaign

Want to show up on the first page of Google search engine results immediately? Or maybe just some extra exposure online? We can help you develop a Google AdWords advertising campaign to drive traffic to your website. You can manage your campaign based on your marketing budget.
Graphic Design and Branding

We also provide graphic design in logo, brochure, fliers, letter head, poster ads, all of which should have a consistent look and feel to represent your brand.

Website Maintenance

Are you too busy to manage your website? We provide website maintenance as well. You can Choose from monthly plans or hourly rates ($50/hour).
If you need site functionality that is not listed above, please do not hesitate to contact us directly. Tell us what you need and we will tell you how we can make it happen.
Let's get started now! Contact us today for a free consultation.